Pole Dancing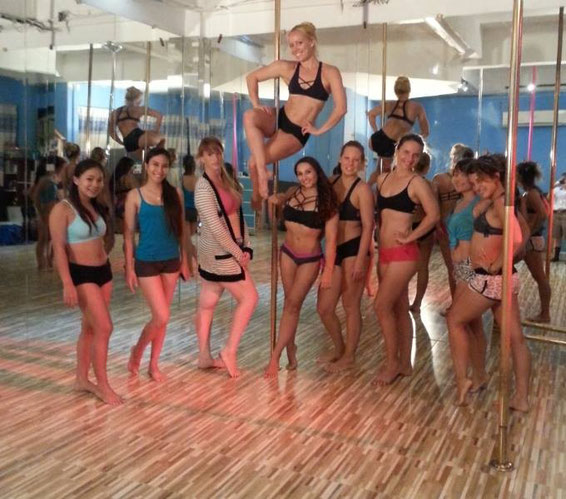 Pole Dancing is the new trend for every woman who wants to stay fit and have fun! For any age and any size, everyone is welcome to take a shot at it! And if you are on holiday, it's definitively the right time to dare to try it!
Pole Dancing is a sport, a form of performing art and a combination of dancing and gymnastic, which will develop your strength, flexibility and endurance. It will also increase your confidence and sex appeal.
With our different level courses, you are going to learn some specific moves!    
From Beginner to Expert Pole Dancer, for fun, for the challenge or to do something original during your holiday, we promise you an amazing time with us.
So who is it for?

Aerial and pole dancing is for anyone who wants to have fun and learn something new within a group of fun girls! 
You don't need to have any previous experience in gymnastics or to be particularly reckless to start pole dancing. Our lessons were made to teach pole dancing step-by-step from the warm up and basic moves to the cool down.

** So...Let us put the music on and show you how you can have fun daring a new sport! **
Where?

The pole dancing lessons are located in our Fitness studio in Patong. You will be taught on brand new X-pert Pole, the best quality pole in the market. We are also equipped with safety mats.

Each class lasts 1 hour and you will never share your pole with more than 1 person.

What should I wear?
Comfortable clothes! Shorts and a tank top is the best. You will first learn pole dancing in your bare feet, but for the last lesson of each course you are going to perform a routine on heels, so make sure to bring your high heels. 
- Important -
Please do not put any body lotion on before you come or you will slip and it could be dangerous.

Pole Dancing – Beginner/ Intermediate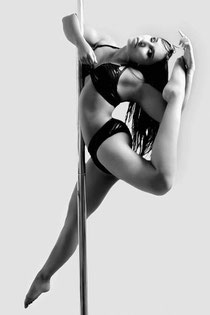 This class is made for people who have never done pole dancing before. You will learn a series of different spins, tricks and linking moves, before finishing the course by climbing the pole and going upside down!  You will have an introduction to static and spinning pole, both are used to perform the perfect choreography.
Nervous? Don't be! It's a very relax and fun environment where girls are supportive of each other, ; all ages, body shapes and levels of fitness are welcome :)
Pole Dancing – Intermediate- Advanced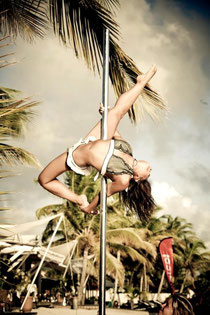 Now that you can climb the Pole and master  « basic invert », this class will teach you how to improve your technique, work on your fluidity and discover new killer moves.
You will learn to climb and grip the Pole with every part of your body, and make impressive combos. Take your Pole Dancing to the next level.
Pole Expert and Pole Choreography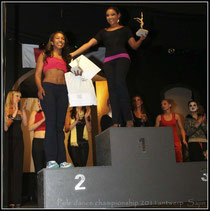 Pole Expert and Pole Choreography
upon request available in private training
AERIAL HOOP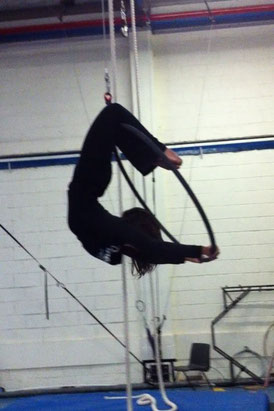 AERIAL HOOP
Learn how to activate your core and build the strength you'll need to get up and into the hoop! This course teaches a mix of spins and poses under, on and over the hoop with a big strength component for your upper body and abs, plus all over body flexibility and coordination. You will develop aerial sequences holding yourself up and posing in this amazing apparatus!
Fitness
Stretch & contortions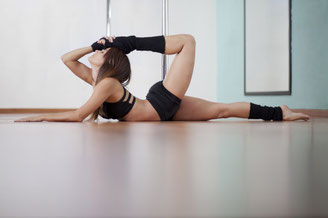 Give a second life to your body! The quality of your muscles does not only depend on the mass; it also depends on their flexibility. During this class, we are going to relax and go for an intense, sexy stretching. No one wants to be built like a tank, with this class you will feel brand new and get slender muscles.
Pole Fit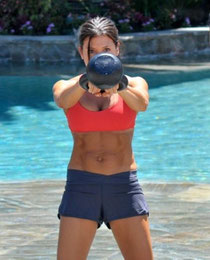 If you feel a little bit weak during the Aerial Pole Dancing course or if you just want to tone your whole body in an original way, come and try Pole fit. There is nothing sexy about this class but it will definitely give you more strength, a better cardio and hot body! We will work mainly on the upper body (arms, abs etc.) but also on the legs using some exercises like squats and lifts.
Book Now!